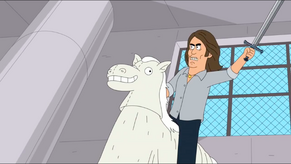 Viggo Mortensen is a real-life actor who is Steve Williams' favorite celebrity ever, mainly for playing Aragorn in the Lord of the Rings trilogy.
In "Scared Straight", he helps Steve spring Malloy and Denzel out of prison by breaking in while riding on Steve, decapitates Tiny Smalls and Meat Hammer and attacks the rest of the security guards, before grabbing Malloy and taking off with Steve and Denzel carrying him in a Shadowfaux costume.
Viggo admitted he's never watched any of those "goddamn LOTR movies", since he had no interest in them, although he still attended Tol-kon.
Viggo also released a cook book on lasagna.
Ad blocker interference detected!
Wikia is a free-to-use site that makes money from advertising. We have a modified experience for viewers using ad blockers

Wikia is not accessible if you've made further modifications. Remove the custom ad blocker rule(s) and the page will load as expected.