That Brother's My Father is the fourth episode of season 3 of Brickleberry.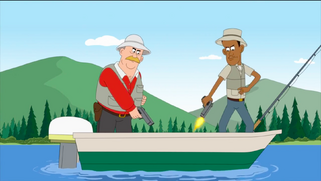 Denzel marries Woody's mom, and because this now makes him Woody's stepfather, is able to take control over Woody. Meanwhile, Connie is obsessed with "Wheel of Fortune" host Pat Sajak.
Malloy, delighted by Woody's mom's arrival, exploits her into providing him with lots of money and presents.
Woody's mom is revealed to still be alive while Woody has always stated that she was dead in Two Weeks Notice and Woody's Girl and he admitted he lied when saying his mom was dead in those episodes and also her first name is revealed to be Anita.
This episode reveals that Woody enjoys masturbating to porn of pregnant African women.
Ad blocker interference detected!
Wikia is a free-to-use site that makes money from advertising. We have a modified experience for viewers using ad blockers

Wikia is not accessible if you've made further modifications. Remove the custom ad blocker rule(s) and the page will load as expected.