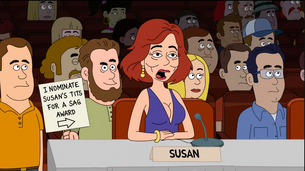 Susan Sarandon is an American film actress who debuts in Season 2's "The Comeback" and then returned (also died) in Season 3's "Miss National Park". She was one of the 3 judges for the Miss National Park beauty pageant.
She starred in Thelma and Louise, a film which one audience member wasn't fond of.
Ethel accidentally killed Susan by shooting her between the eyes with a rifle that Malloy provided her with for the battle royale of the beauty pageant contestants.