"That's it... you two just need to fuck each other!" - Steve
Squabbits is the fourth episode of the animated series Brickleberry. It first aired on October 16, 2012.
In an effort to compete with Yellowstone's cute and cuddly animal ads, Woody charges the team of rangers with the task of coming up with the cutest animal in the world. Steve then creates a "Squabbit", the horrifyingly pink, half squirrel, and half rabbit combination. We then later see the menacing side of the new critters.
Meanwhile, Malloy goes to go live with other bears when he feels he's been replaced by Woody with the Squabbit.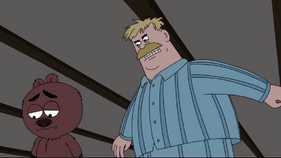 The Squabbits return in the Brickleberry comic book Armoogeddon Part 3.
Bobby Possumcods was shot multiple times by PITA and then he dropped on the ground and bled, yet he still shows up alive in future episodes.
Malloy: Winnie the Pooh never had to deal with this bullshit.