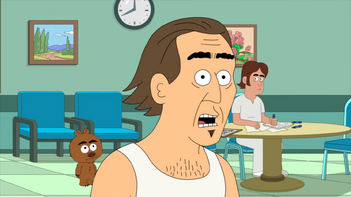 Either some nutjob who thinks he's Nicholas Cage, or it actually is the real Nicholas Cage is an actor mental hospital patient who is being committed for annoying people by reenacting his movie scenes screaming nonsense just to irritate them or cause he thinks it's fun.
Have you ever been dragged onto the sidewalk and beat until you PISSED BLOOD!!!!
Okay, let's ride.
TA-DA!!!
Oh no, NOT THE BEES!!! NOT THE BEES!!!! AAAAAAHHHH!!! AAAAAAAAHHHH!! MY EYES!!! MY EYES!!!!
Ad blocker interference detected!
Wikia is a free-to-use site that makes money from advertising. We have a modified experience for viewers using ad blockers

Wikia is not accessible if you've made further modifications. Remove the custom ad blocker rule(s) and the page will load as expected.