''My Way or the Highway''
Season 2, Episode 7
Production Code: 2RAG06
[[|250px]]
Written by Rocky Russo & Jeremy Sosenko
Directed by Susie Dietter
First Aired: October 15, 2013
List of Episodes
Previous
Ranger Games
Next
Little Boy Malloy
My Way or the Highway is the 7th episode for the 2nd season of Brickleberry and the 17th episode overall.
Woody makes sexist comments about Governor Melcher just for being a woman, and Melcher gets revenge on Woody by putting in a highway that ubiquitously surrounds Brickleberry with no escape, "The Woody Johnson Is a Sexist Asshole Memorial Highway". Woody then vows to get rid of the highway by becoming governor and Malloy, taking a peak at the opulent Governor's mansion, wants to live there so he pushes for Woody to win by "black male"-ing the Governor, as in make a sex scandal video off of her involving Denzel.
Steve meanwhile is stranded in the middle of the highway and starts hitchhiking to get across the street. He gets accepted by a serial killing parricidal driver who won't take Steve to his destination.
Malloy: Ain't I a stinker?!
Malloy: (about Connie) All that running and crying, you think she'd be thinner.
Malloy: The streets will run red with your blood!
Bobby: (referring to Jorge) Who the hell invited this guy? We are definitely anti... anti... uh... (to Jorge) What the hell are you anyway?
At the end of the intro, the lake in the middle of the scene shows a dolphin in it, which Woody bought for his governor campaign.
Woody is seen wearing very squeaky Squabbits slippers throughout this episode to go with his pajamas, implying he still has some love for the Squabbits.
Jorge claims he has no idea what nationality he is when asked by Bobby.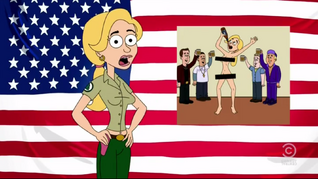 Pop Culture References
Edit
When Malloy said, "Ain't I a stinker," it's a reference to Bugs Bunny from Looney Tunes.
Bobby and Bodean's militia wear Guy Fawkes masks.
Woody running through the highway to not get hit by cars is a reference to Frogger.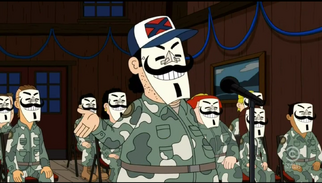 Ad blocker interference detected!
Wikia is a free-to-use site that makes money from advertising. We have a modified experience for viewers using ad blockers

Wikia is not accessible if you've made further modifications. Remove the custom ad blocker rule(s) and the page will load as expected.