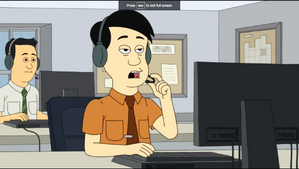 The Korean Visa Workers replaced the Indian ones in "Hello Dottie" when Woody tried to fire the 3 Indian men he Skyped in to work at Brickleberry using robots, but this couldn't work because the customer service firm was outsourced from India to South Korea, and Woody being spiteful of Korean people refused to hire them.
Ad blocker interference detected!
Wikia is a free-to-use site that makes money from advertising. We have a modified experience for viewers using ad blockers

Wikia is not accessible if you've made further modifications. Remove the custom ad blocker rule(s) and the page will load as expected.