Crippleberry is the fifth episode in the second season of Brickleberry, being the fifteenth episode overall.
The carnival comes to Brickleberry with a freaky sideshow that Connie obsesses over. The Brickleberry carnival is drawing in good money but Malloy can't play as many games as he wants since he runs out of cash and Woody refuses to provide him any income any more, ordering that Malloy deserves to make his own money. Steve gets hurt on the ride called "The Paralyzer". (What? You thought the ride would be safe? Can't you read dumbass? By the way, no refunds!) The Paralyzer leaves Steve crippled in a wheelchair just like according to Steve, that genius scientist "Tony Hawk". Malloy gets a job as his lawyer and forces changes to bring the park up to code. Ironically, even though Malloy took up Woody's advice that he get a job, Malloy's still after Woody's very own money anyways, but the costs can be so high that should Woody lose the lawsuit (and he's already dead guilty), he'll have even less money than should he have agreed to give Malloy enough to play games at the carnival.
Meanwhile, Denzel exploits Steve's crippled injury to get whatever he wants, screaming at random people "That's my best friend!" to give him free stuff like free alcohol, free entry to night clubs, free blowjobs from elderly married women and immunity from committing crimes.
Denzel: Oh hey, Jerry! What's up?

Connie: You two know each other?
Denzel: Yeah, we went to middle school together. Hey, Jerry, remember when you sneezed and got Wanda pregnant?
Jerry: I'm still paying for that cold.
Steve: (via computer voice) People of Earth. You are in no danger. Please remain in your homes. Ha. Ha. Ha.
Malloy: (swipes the stick away from Steve) Give me that! You can still talk, you moron.
Steve: Hey, give that back. It makes me sound smart like that crippled scientist, Tony Hawk.
Woody: (referring to Steve's handicap) Oh, look, everybody! The attention whore is here!

Ethel: Woody!
Woody: Oh, walk it off, Steve! Everything will turn out fine just like it did for Christopher Reeve.
Ethel: But he's dead.
Woody: Exactly.
Carnival Freak Midget: If it's a black guy, we're frying him.
The intro was slightly altered with Malloy's robot set on autopilot and wrecking up the forest.
Pop Culture References
Edit
Malloy thanks the University of Phoenix for giving him a Law School diploma, even though Malloy didn't even spend 2 days in law school.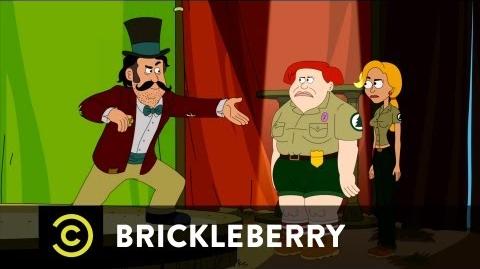 Ad blocker interference detected!
Wikia is a free-to-use site that makes money from advertising. We have a modified experience for viewers using ad blockers

Wikia is not accessible if you've made further modifications. Remove the custom ad blocker rule(s) and the page will load as expected.