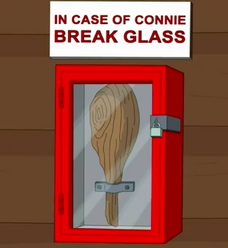 The Connie Club is a giant wooden club that Woody specifically made and placed around in a clearly visible emergency box in the Brickleberry ranger station the same way fire extinguishers are. The purpose of the club is to hit Connie.
In "The Animals Strike Back", while Steve was stricken with guilt around Malloy since it was Malloy's parents' Murderversary, Steve immediately apologized and Malloy asked what for, Steve just whacked Connie with a chair claiming that's why, he just wanted to apologize beforehand. Woody called out Steve that he should never ever dare to hit Connie with a chair!!!!! Use the Connie Club, that's what it's there for.
When Connie started lecturing Denzel about African-American history and Benjamin Franklin's $10 bills so then (WHACK!!! Denzel hits her with a chair) Woody angrily reminds Denzel, that the Club's 3 steps away!
Appropriate times to hit Connie with the Connie Club
Edit
When Connie starts insulting your intelligence by correcting your inaccurate explanation of historical events.
When Connie is screaming and panicking.
Just cause you want to.