Brickleberry character

Chang
Gender
Male
Hair
Black
Age
In his 10s
Killed by
Malloy
Appearances
First
Miss National Park
Chang
is an overweight rude Chinese boy in the Season 3 episode
Miss National Park
. He lives somewhere in China and then played against Malloy in an interactive video game. As the game involves players controlling gunmen to kill each other, Chang easily killed Malloy's character and had sex with Malloy's characters with, as Chang described, "penis balls". Malloy got extremely angry about this, vowing revenge on Chang by taking the Miss National Park contest prize for himself by getting Connie to win.
At the end of the episode, Malloy flew to China to go find and kill Chang. Having seen Chang was paralyzed and handicapped being forced in a chair, Malloy claimed "Oh, my god :O ..... I had no idea..... It was gonna be this easy! :D" and then threw Chang out the window, as Chang screamed, crashed into a parked car and died.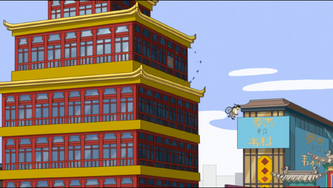 Ad blocker interference detected!
Wikia is a free-to-use site that makes money from advertising. We have a modified experience for viewers using ad blockers

Wikia is not accessible if you've made further modifications. Remove the custom ad blocker rule(s) and the page will load as expected.