Home
Talk

0
82pages on
this wiki
About the Show
Brickleberry is an American animated sitcom created by Roger Black and Waco O'Guin. It premiered on Comedy Central at 10:30 PM, September 25, 2012.
The show is about a struggling, mediocre state park and its hardly-competent team of rangers. The show was renewed for a second season on November 4, 2012.
News
Brickleberry was renewed for a third season of thirteen episodes on October 30, 2013
On April 9, 2013, the Wiki had its homepage updated.
Countdown to Next Episode
Check your listings until fall of 2013!
Upcoming Episodes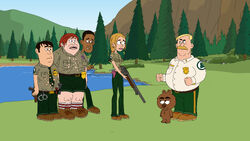 September 3, 2013
10:30 PM
2RAG01
Most Recent Episode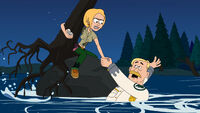 December 4, 2013
10:30 PM
1RAG10
The dam that holds back the Brickleberry River is destroyed by fireworks set off in honor of Woody's birthday. The park floods, and the rangers, along with the rest of the survivors, realize they must re-form society on an island they are washed onto.