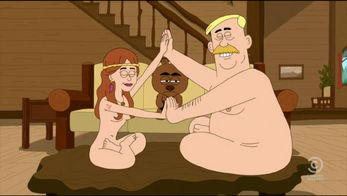 Astral is the yoga instructor who appeared in the season 2 episode, "Woody's Girl". She first met Woody at one of her yoga classes, where after he killed all the other students, instantly fell in love with him. She not only helped Woody control his stress, but immediately started a romantic relationship with him, going so far as to move in to his home and have sexual intercourse. However, when Malloy threatens her to leave, she reveals herself to be mentally unstable, continually threatening Malloy to kill him if he tells Woody anything that would end their relationship. After this, it is revealed that is part of a cult, and stated to Malloy that she and Woody would be jumping off the ledge of Brickleberry falls to be with their "god". While Astral and her fellow cultists jumped, Woody was saved at the last second by Malloy, only to see that their "god" was real and that they landed in a spaceship. She was last seen giving a blowjob to another cultist, ending her relationship with Woody.
Astral and her religious cult are a parody of Marshall Applewhite and Heaven's Gate.
Ad blocker interference detected!
Wikia is a free-to-use site that makes money from advertising. We have a modified experience for viewers using ad blockers

Wikia is not accessible if you've made further modifications. Remove the custom ad blocker rule(s) and the page will load as expected.